The Corinth Computer Project
Reconstructing the city plan and landscape of Roman Corinth
Dr. David Gilman Romano, Director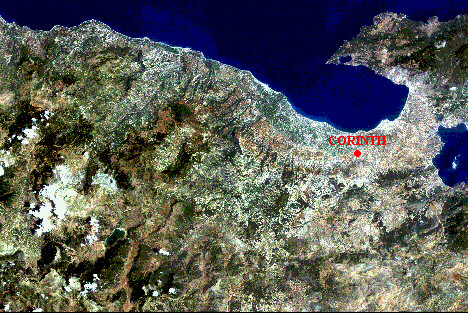 © EOSAT
Since 1988 a research team from the Mediterranean Section of The University of Pennsylvania Museum of Anthropology and Archaeology has been involved in making a computerized architectural and topographical survey of the Roman colony of Corinth. Known as the Corinth Computer Project, the field work has been carried out under the auspices of the Corinth Excavations of the American School of Classical Studies at Athens, Dr. Charles K. Williams, II, Director. Although the excavations at Corinth by the American School have been underway for a century, aspects of the study of the layout of the Roman colony have remained incomplete due to the size and complexity of the site as well as its complicated history. Our original objectives were to study the nature of the city planning process during the Roman period at Corinth; to gain a more precise idea of the order of accuracy of the Roman surveyor; and to create a highly accurate, computer generated map of the ancient city whereby one could discriminate between and study the successive chronological phases of the city's development.
It is important to acknowledge that during the course of the nine years of the project to date, the nature of the research has evolved from a fairly straightforward consideration of the location and orientation of the excavated roadways of the Roman colony, to a more complex topographical and architectural consideration of various elements of the colony, including the rural as well as the urban aspects of planning and settlement. The project now utilizes a number of methodologies, simultaneously, in the overall study of the ancient city. One aspect of the project is a regional landscape study of a portion of the Corinthia, with the city of Roman Corinth as the focus. Another aspect of the project is the effort to include information from the city of Corinth from chronological periods other than Roman, specifically Archaic and Classical Greek, Hellenistic, Late Roman, Byzantine, Frankish, Venetian, Turkish and modern. By means of low level and high altitude air photography, as well as satellite images and some balloon photographs, the limits of the project have been greatly expanded into areas that had not been considered in the original research design.

© 1996 David Gilman Romano.
Released January 22, 1997.
If not otherwise stated, all texts, photographs and graphics are copyrighted by Dr. David Gilman Romano and the Corinth Computer Project.

If you have questions or comments concerning the Corinth Computer Project please contact us via email at dromano@ccat.sas.upenn.edu.
Webdesign by: Nicholas L. Stapp & Warren M. J. Petrofsky, 1996.